T/7x is the perfect answer for the real world. It's compact enough (and beautiful enough) to end arguments before they begin; while powerful enough to easily answer most needs and balanced enough to blend beautifully with many of the quality speakers out there and still flexible enough to work in specialty applications.

Filtered for Purity - The Practically Perfect REL
REL's legendary High Level Input connection and fast filters are a significant chapter in the REL story. Connecting via the speaker outputs of your amplifier without drawing any power from it may seem like magic, but the real magic lies in the way the sound takes on a natural character and blends seamlessly with your speakers. Unique tuning and special limiters means the T/7x sounds fresher, faster and more dynamic than before. T/7x is, without reservation, one of the most-balanced RELs of all time. In order to achieve perfect balance, a sub must weigh speed against heft, while ensuring true extension-depth-and do so in a physically harmonious package. T/7x manages to make it all seem easy. Quick and delicate for a perfect blend, it can pound out exceptionally deep, tuneful bass that belies its size and plays louder than most will ever require.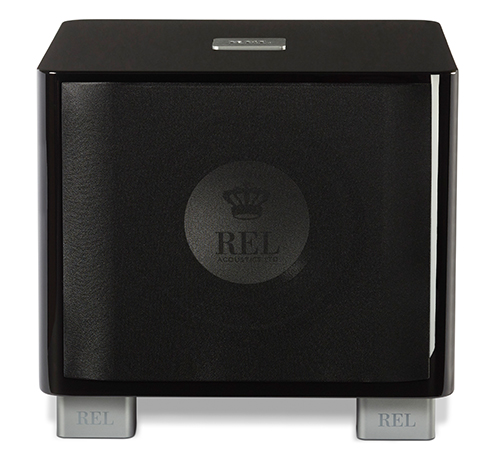 Designed to be Better
Many don't realize the intense connection between performance and design here at REL. Performance is everything to us and it leads to physical design solutions. Thus it is, that our engineers, in recognizing the need for greater cabinet volume to achieve the goals of greater fluidity and power, turn to the designer. He works dimensions to fool the eye into seeing a smaller, more compact footprint, even though cabinet volume increases. Using gently rounded corner radii that allows the eye to flow over and see less visual mass. The result is both modern and clean with no unnecessary adornment.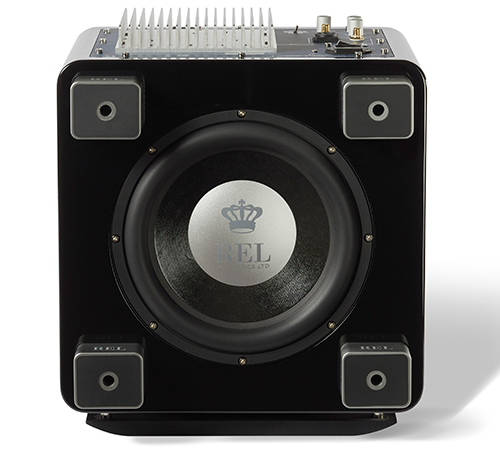 Drive On - INNOVATIVE ALLOY/FIBRE BASS ENGINES
The 8" long throw active and 10" passive drivers are where T/7x derives its incredible speed and clean finish. A thorough revision of critical suspension components are responsible for the agility and suppleness of T/7x. The T/7x sounds louder and more powerful is expected, but few would predict it also is faster, more reactive and transparent than our prior generation, itself a paragon of virtue. Stiffer suspensions better suited to advanced duty mean not only can each driver trace minute details, but also travel farther and handle more power.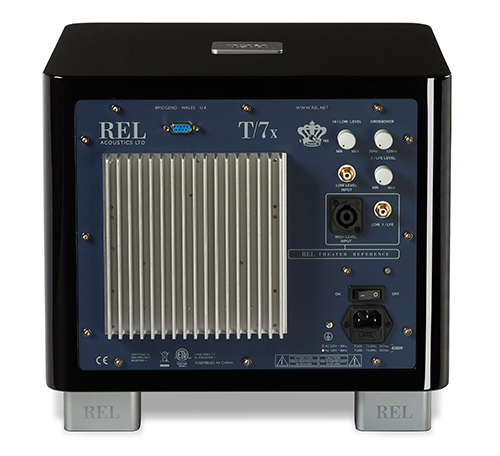 Tried and True Amplifiers - The Power Behind REL
We have retained our signature Class A/B amplifiers used in every generation of Serie T since 2006. Reliability is the key to happy ownership and with some 200,000 and counting of this range leading long happy lives, Serie T/x owners can feel certain of REL's standard setting reliability. The powerful 200-watt mosfet amplifier used in the T/7x remains an icon of sound and reliability with huge reserves of current. Massive power supplies are used and small upgrades are found everywhere. New driver mosfets that open up performance and transparency and new methods for securing the toroidal transformers mean better performance and superior reliability. The best gets better.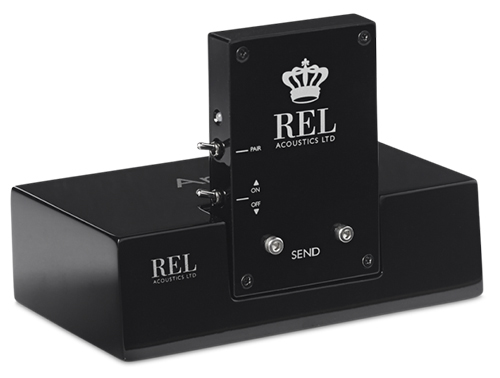 Zero Compression Wireless - Unlimited Possibilities
At REL, we've developed a sterling reputation for building the finest sounding, fastest wireless systems available in the industry. REL never rely upon digital compression as it results in thin, lifeless sound. Instead, we have perfected an (optional) Arrow™ Wireless system; so fast and dynamic we're comfortable encouraging the use of wireless on one channel of a pair of RELs while the other channel may be connected hardwired with cable.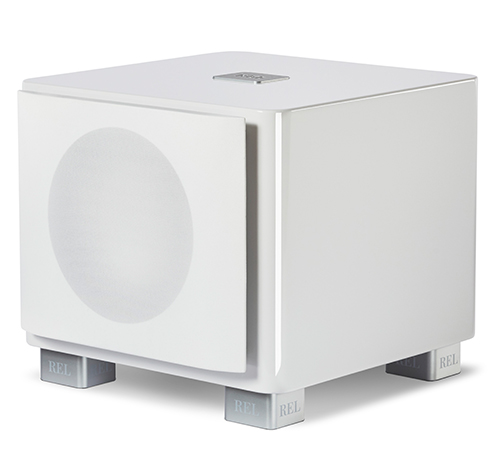 Specifications
- Type: Front-firing active driver, down-firing passive
- Active Driver Size & Material: 8 in., 200mm long-throw, FibreAlloy™ inverted aluminium dust cap,
steel chassis
- Passive Radiator Size & Material: 10 in., 254mm long-throw, inverted dust cap
- Low Frequency Extention: -6dB at 30 Hz
- Input Connectors: High Level Neutrik Speakon, Low Level single RCA, LFE RCA
- Output Connectors: N/A
- Power Output: 200 Watts (RMS)
- Amplifier Type: Class A/B
- Wireless Capability: Arrow (Optional), Zero Compression, Single Large Scale Integrated Chip

Protection System
- Fully Electronic Set Safe: Yes
- D.C. Fault: Yes
- Output Short: Yes
- Mains Input Voltage: 220-240 volts, 110-120 volts for certain markets
- Fuses: 2 Amp semi delay 230 volts operation, 4 Amp semi delay 115 volts operation

Dimensions
- W x H x D: 14.0 x 12.6 x 14.3 in., (356 x 320 x 363 mm)
- Net Weight: 38.5 lbs. (17.5 kg)
- Finish: High Gloss Black, High Gloss White, 5 coats

Supplied Accessories
- Mains Lead: Yes
- Neutrik Speakon: Yes (10 Meters Nominal)
- Interconnect: -
- Users Manual: Yes