Oomph met de HT/1205
De reden om toch te gaan voor de HT/1205 is verre van ingewikkeld. Je wilt net wat meer 'Oomph' zoals
de Engelsen het zo mooi kunnen zeggen. En het woord zegt gelijk alles. Je zoekt net dat stukje extra in
het laag dat een HT/1003 je niet kan bieden.

Meer van alles
Dat stukje extra kost wel iets. Ten eerste iets meer geld. 200 euro om precies te zijn. Maar daar krijg je ook een hoop voor terug. Ten eerste een ingebouwde Klasse-D NextGen5 versterker van 500W. Deze is nodig om de 12" (30 cm) CarbonGlas™ driver naar behoren aan te sturen. Tot slot kost het je iets meer ruimte. Hij is 5 cm breder en dieper dan de kleine broer. Maar ja; met deze formaten mag je nog steeds spreken van compact.
HT/Air™
Je hebt draadloos en draadloos op de REL manier. REL staat bekend om de compromisloze ontwerpen van hun audiosystemen, en de HT/Air™ is daarop geen uitzondering. Nul compressie en maximale dynamiek is wat het belooft. HT/ Air™ heeft een latency in het 16 tot 20 milliseconden gebied en laat daarmee de op Bluetooth gebaseerde systemen ver achter zich. Hierdoor kan een HT/ model op de optimale positie gezet worden, zonder al die lelijke kabels in het zicht.
---
HT/1205 home theater subwoofer delivers a brand new 500W Class D power amplifier design, coupled to a 12" (300mm) long travel driver to deliver extremely high output in an attractive design. HT is a powerhouse for dedicated high powered home theater applications, that will also transform the gaming experience and partners nicely with active wireless speakers.

Rethink What's Possible
Performance Home Theater
Serie HT is designed specifically to answer the challenge of creating affordably priced, exceptionally dynamic, pure home theater powered subwoofers. The HT/1205 is the ideal combination of a lightweight, modern 12" CarbonGlas™ (300mm) driver coupled to a powerful 500W Class D amplifier that runs cool, producing extraordinary dynamics. Internally, we developed specially adapted home theater input filters that produce extremely flat bass down in the 20's. We set out to build the loudest, relatively compact 12" unit available for pure home theater use, and at truly attractive pricing. You'll be the judge of how well we accomplished that goal, but critics are already lining up for reviews. We believe the HT/1205 is destined to become a modern classic with svelte cabinet dimensions finished in an attractive, yet purposeful line grained black aluminum-look and topped by a 12mm thick beautifully polished top that serves to damp vibrations on the critical top surface of the cabinet. For REL owners already enjoying our Reference , Serie S and T/i subwoofers designed for both 2-channel and theater use, the HT/1205 is designed to supplement their system's .1/LFE output to produce extremely high output for chest rumbling home theater special effects.

Purpose Built
Bring on the special effects
HT/1205 delivers a tough, simple, purpose-built appearance designed to communicate its sole mission; devastatingly high output home theater. The cabinet's width is minimized reducing visual mass, whilst depth is maximized to produce the deepest bass. We selected tough, high-grade, horizontally oriented line-grained composite to wrap the entire cabinet, which offers easily handled, easy cleaning. This more basic design vocabulary differs from the more refined finishes found in our other lines, however the top surface that catches one's eye is beautifully finished in 5 coats of hand rubbed lacquer, creating the visual appeal we've come to be known for.

Size Matters
Twelve-Inch CarbonGlas™ Driver
REL's driver prowess is on full display with the HT/1205, a modern 12" CarbonGlas™ (300mm) driver that is both lightweight and extremely stiff. While many competitors drone along with relatively slow, heavy cones HT/1205's uses tough, stiff carbon fibre over 60% of the driven surface, backed by lightweight glasfibre. Naturally, we use true high quality natural butyl surrounds as they remain soft and pliable for decades—something REL owners have come to expect. HT/1205's new 12" CarbonGlas driver sets a new standard for affordable, high performance theater-specific drivers.

500W Amplifier
Warn the neighbors, it's movie night
500 Watts: To accomplish our single-minded goal of exceedingly high output for large-scale theater applications requires a special amplifier. Our NextGen5 Class D amplifier frees up interior space whilst running cool; this results in more cabinet volume and that translates into louder and deeper bass. 500 watts means the driver never is allowed to starve for power ensuring a long running, reliable design. Within HT-1205's input filter, we designed in specific inverse filtering to permit our CarbonGlas driver to extend much deeper than traditional designs.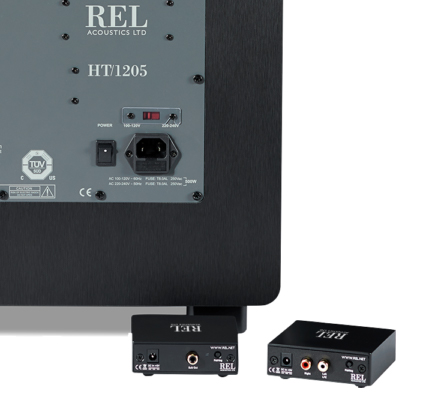 HT-Air™ (=optioneel)
Zero Compression Wireless Compatible
There is wireless and there is REL wireless. We are well-known for having the finest wireless purpose-built systems in the entire component audio world. Though HT-Air™ is affordable, it retains our corporate fixation on zero compression and maximum dynamics. HT-Air is designed to leave old fashioned Bluetooth-based systems in the dust, delivery latency in the 16-20 millisecond range. This permits owners to place your HT/1205 where it works best for you without resorting to unsightly cables being strewn across the landscape of your living room, all while retaining our category-leading super-fast wireless.
Specifications
- Type: Closed box, front firing woofer
- Drive Unit: 12 in., Glass fiber reinforced cone with inverted dust cap
- Lower Frequency Response: -6dB at 22Hz
- Input Connectors: Low Level stereo RCA, LFE RCA
- Output Connectors: Low Level stereo RCA, LFE RCA
- Gain Control Range: 95 dB
- Power Output: 500 watts (RMS)
- Phase Switch: Yes, 0 or 180 degrees
- Amplifier Type: Class D
- Fully Electronic with SET-SAFE: Yes
- DC Fault: Yes
- Output Short: Yes
- Mains Input Voltage: 220-240 volts, 110-120 volts for certain markets
- Fuses: 8 Amp semi delay 230 volts operation, 8 Amp semi delay 115 volts operation
- Dimensions: W x H x D, Including feet and rear panel controls 376 x 405 x 399 mm
- Net Weight: 42.3 lbs. (19.2 kg)
- Finish: Vinyl
- Supplied Accessories
- Mains Lead: Yes
- Users Setup guide: Yes

Brochure