212/SX
De introductie van de REL 212/SE is niet onopgemerkt gebleven. Deze voorganger van de 212/SX is vaak gelauwerd en won in 3 categorieën van "the most influential products of the past 20 years" awards. Inmiddels zij we 5 jaar verder en de techniek evolueert. Door implementatie van de laatste technische ontwikkelingen is het REL gelukt om de 212 significant te verbeteren. De 212/SX is sneller, heeft meer controle en is nog stiller dan zijn voorganger. Dit betekent nog meer detail in weergave, en zeker niet alleen in het laag. Nog beter is de 212/SX in staat om ook de grotere ruimtes voldoende onder druk te zetten. In de kleine toren, prachtig in hoogglans zwart afgewerkt, schuilen maar liefst vier 12" units, twee actief aangestuurde en twee passieve aluminium radiatoren. De actieve units worden van energie voorzien door een NextGen5 Klasse-D versterker met een uitgangsvermogen van maar liefst 1.000 Watt. Het systeem is in staat meer dan 110 dB per unit te produceren. Onvervormd strak en diep laag, dat het gehele geluidsbeeld naar een hoger niveau weet te brengen. Het carbon fiber op de achterzijde van de units en het PerfectFilter™ alleen kunnen het niet verklaren, ook de aangepaste behuizing doet wonderen. Wanneer gewenst is de REL 212/SX draadloos aan te sturen. Hiervoor is optioneel de draadloze Airship zender/ ontvanger leverbaar welke een 24-bit digitale verbinding tot stand brengt.
Specifications
- Type: (2) Front-firing active drivers, (1) rear passive, (1) down-firing passive
- Active Driver Size & Material: (2) 12 in., 300mm long-throw, Continuous CastAlloy™ cone structure,
cast chassis
- Passive Radiator Size & Material: (2) 12 in., 300mm Carbon/Carbon flat cone structure, steel chassis
- Low Frequency Extention: -6dB at 18 Hz
- Input Connectors: High Level Neutrik Speakon, Low Level stereo RCA, LFE XLR and LFE RCA
- Output Connectors: N/A
- Power Output: 1,000 watts (RMS)
- Amplifier Type: NextGen5 Class D
- Wireless Capability: Yes- REL AirShip system [required]. Sold separately.

Protection System
- Fully Electronic Set Safe: Yes
- D.C. Fault: Yes
- Output Short: Yes
- Mains Input Voltage: 220-240 volts, 1120-120 volts for certain markets
- Fuses: 7 Amp semi delay 220 volts operation, 15 Amp semi delay 120 volts operation
Dimensions
- W x H x D: 14 1/4in., x 33in., x 20 1/4 in., (362 x 838 x 514.5mm)
- Net Weight: 128 lbs. (58 kg)
- Finish: Piano Black Lacquer

Supplied Accessories
- Mains Lead: Yes
- Neutrik Speakon: Yes (10 Meters Nominal)
- Interconnect: N/A
- Users Manual: Yes
Reviews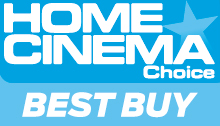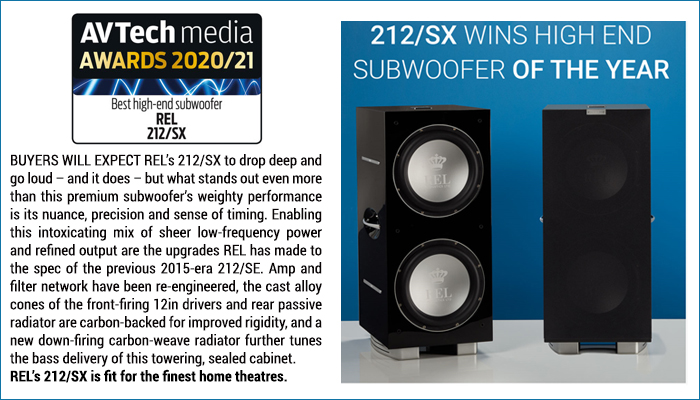 ---
The Powerful 212/SX - Quality Meets Quantity
At REL, a deeper understanding of quality underpins everything we do. So, whilst 212/SX thunders and shakes foundations, it also resolves detail and restores midrange warmth to its correct balance. At 1,000 watts with (4) 12" (350mm) drivers, 212/SX drives rooms hard and in multiple modes which allows it to create richer bass everywhere in a room. Refinements to both our legendary ultra-fast filters and newly developed drivers produces harder slam and brings to life quieter, gentler moments, improving system performance at both extremes. Plays brilliantly with both high end 2-channel and large power theatre applications.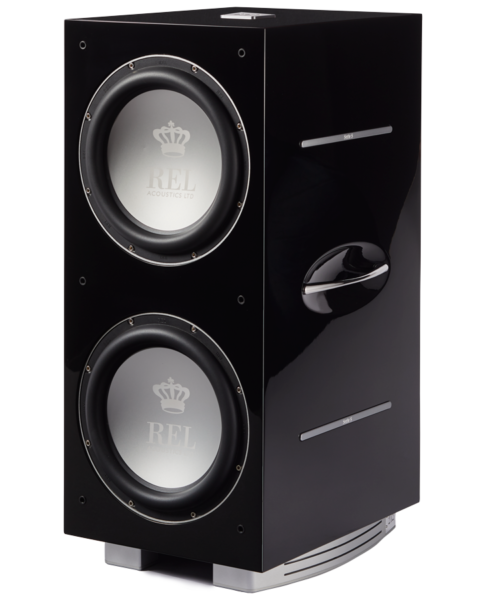 Double Down - Twin Continuous Cast™ Alloy Bass Engines
Lightweight carbon fiber blades firmly attached to the rear of each active alloy cone serves to both strengthen the cone and quiet it. The twin 12" (350mm) active drivers now offer an additional 12mm of stroke and also benefit from updated suspension geometry and greater power handling. And a brand-new double-spider, high powered passive unit on the bottom delivers floor rippling low bass. The result is a major step forward in the 212 design, an already brilliant performer now playing louder with greater ease whilst better preserving the tiniest details of air and space with even greater precision.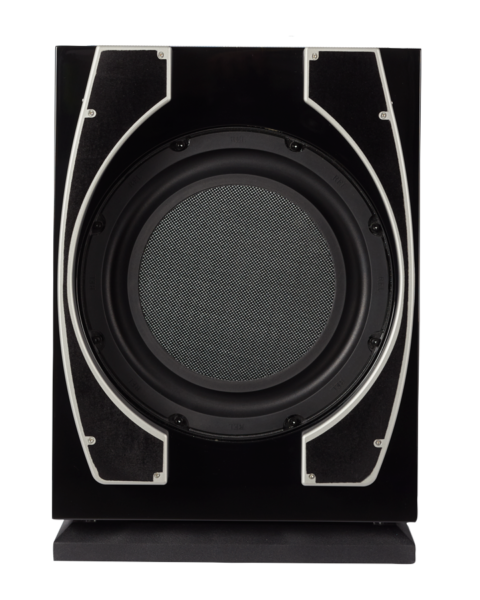 Sound Beyond Its Size - Dual Continuous Carbon Passive Radiators
Our uniquely tuned passive radiators use special suspensions, now with an additional 30mm of linear travel, to produce performance far beyond conventional subwoofers. Our new SuperProgressive™ passive radiator produces extremely long travel allowing for very loud output while retaining the variable stiffness of its suspension. The down firing passive produces deep, floor-crawling bass that makes a room shudder. Mounted above the amplifier panel on the rear is the second passive. This unit produces wrap around "atmospheric" bass that adds air and shimmer to the sound. Coupling with either the rear wall or the rear corner of a room allows for bass to develop exceedingly long wavefronts and adds an ease and effortless quality unique to single-box designs.

NextGen5 1,000w Digital Amplifier - Whoever said "Power Corrupts" Never Heard a 212/SX
With incredible reliability in units now numbering in the thousands, the Gen 5 amplifier is a paragon of extreme power and reliability. At 1,000 watts of output, plus the ability to connect both High Level and .1/LFE simultaneously with optional state of the art wireless, 212/SX delivers the goods at scale. It does so with incredible grip and control in the extreme deep bass where most amplifiers get loose and lose control. 212/SX has an almost limitless sense of power, coupled with precision. Where others offer brute strength, we deliver massive power and every secondary category of performance with ease and effortless versatility. Deafening output in a concert video or blockbuster movie? Check. Beautifully rendered female vocals accurately placed within a stone abbey? Check.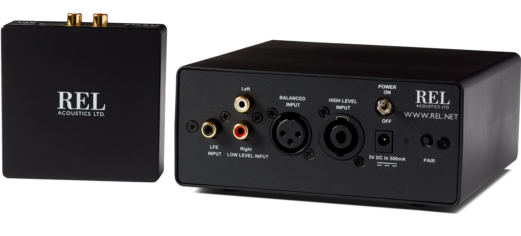 Futureproof Wireless - Airship Zero-Compression Wireless
We seized the opportunity to develop a new high resolution, audiophile-grade uncompressed wireless system for 212/SX and our newer offerings in the Reference range. Airship™ is a new 5.8 gHz military-based wireless system built into a monolithic LSI chip that delivers incredibly fast bass. We ship full bandwidth, not just bass, through this system that includes (2) channels. The first channel handles our High Level Input and can be used for both stereo bass or use of a single channel with monoblock amplifiers. Simultaneously, Airship will process the .1/LFE channel necessary for special effects in film so both RCA and XLR inputs are provided. In the future, we anticipate adoption of more active wireless loudspeakers reaching the market, so we included stereo low level inputs. With Airship, you're ready for the future.