F1.8
De F1.8 luidspreker weet van dezelfde techniek en expertise die zijn toegepast in de vloerstaande familieleden in een kleiner formaat luidspreker een resultaat te geven waar menigeen van zal opkijken. De met de hand afgewerkte behuizing van de F1.8 ziet eruit als een waar meubelstuk en huwt het prachtige walnootfineer met een aluminium basis waarin de Fyne Audio BassTrax™ module zit verwerkt. De 8" (20cm) IsoFlare™ unit heeft een rand van Fyne Audio's eigen FyneFlute™ ingekeept rubber. In het centrum van de woofer zit de 1" (2,5cm) magnesium dometweeter "op tijd" gemonteerd om gezamenlijk de perfecte puntbron te vormen met zijn pure isotropische afstraling over het gehele audiospectrum. Voorzien van zware biwire luidspreker terminals met extra aarding en grote draaiknop voor eventuele fijnafstemming van de hoge frequenties.
F1.8
The F1-8 loudspeaker distils the same technology and expertise utilised in its floorstanding siblings, into a smaller standmount format. The hand crafted cabinet is supported on a machined aluminium plinth that houses Fyne's state of the art BassTrax LF diffuser. Surrounded by FyneFlute rubber surround, the F1-8 features a 200mm IsoFlare low frequency driver mated to a 25mm magnesium dome compression tweeter to create a point source, time aligned transducer delivering pure isotropic radiation across the entire audio spectrum. Hand finished at Fyne Audio's UK manufacturing facility in stunning real walnut veneer with burr walnut inlay, the F1-8 represents the pinnacle of UK loudspeaker design in standmount format.

Specifications
- 2 way, downwards firing port, with BassTrax Tractrix diffuser*
- Recommended amplifier power (Watt RMS): 30 - 180
- Continuous power handling (Watt RMS): 90
- Sensitivity (2.83 Volt @ 1m): 91dB
- Nominal impedance: 8 Ohm
- Frequency response (-6dB typical in room): 33Hz - 34kHz
- Drive unit complement: 1 x 200mm IsoFlare point source driver, multi-fibre bass / midrange cone,
FyneFlute surround with 25mm magnesium dome compression tweeter, ferrite magnet system
- Crossover frequency: 1.8kHz
- Crossover type: Bi-wired passive low loss, 2nd order low pass, 1st order high pass.
Deep Cryogenically Treated
- Dimensions - HxWxD: 470 x 280 x 441mm (18.5 x 11.0 x 17.4")
- Weight - Each: 15.2kg (33.5lbs)
- Finishes: Piano Gloss Walnut
- System adjustments: Presence (2.5kHz - 5.0kHz) +/- 3dB
- Peak power handling (Watt): 360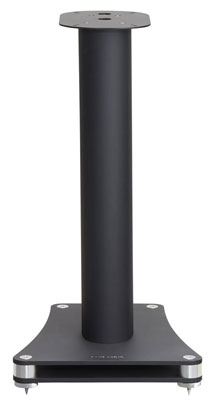 FS8 Stand
The FS8 speaker stand ensures optimum rigidity for our stand mount loudspeakers. Suitable for the 700, F701 and F1-8 with its dedicated fixing points and bolts or coupled with the optional adaptor plate and pressure sensitive putty, it is ideal for the F1-5. The rigid steel top plate leads to a contoured aluminium mass loading central column with a discreet integrated cable management system. Machined from aluminium, the sculpted plinth offers a stable footing and easy levelling on a solid platform. Twin 8mm thick plates are separated by aluminium spacers that form heavyweight turrets for the floor coupling spikes and their large knurled lock rings. Machined aluminium cups are provided to protect wooden floors. Built in the UK, and finished in satin anodised black and polished, the FS8 is a complementary addition to your stand mount loudspeaker.
Reviews