Ti Series
Deze serie van ultra compacte sub-bas systemen begint bij de T-Zero. De T-Zero is uitgevoerd met een langeslag woofer en een 100 Watt versterker. Dit compacte model is specifiek ontworpen voor gebruik in combinatie met compacte luidsprekers in kleinere ruimtes en maakt weergave tot 38Hz mogelijk. Voor grotere ruimtes bepalen meer kastinhoud, grotere woofers, aanvullende passieve radiators en meer versterkervermogen het onderscheid. De drie Ti modellen bieden een grotere kastinhoud , meer versterkervermogen en een groter conusoppervlak voor nog meer laagfundament (T5i tot 32Hz, T7i tot 30Hz en T9i tot 28Hz). Optioneel is voor draadloze aansluiting voor de Ti modellen een 16-bit digitale zender/ontvanger (Arrow™) leverbaar. Alle T modellen zijn voorzien van de REL's unieke ABC afregeling en unieke Set-Safe overbelastingsbeveiliging. De kastafwerking is een 5 laags handopgebrachte en handgepolijste zwarte of witte hoogglans lak.
Specifications
- Type: Passive Radiator, front-firing active woofer, down-firing passive radiator
- Active Drive Unit: 10in., 254 mm long-throw, inverted dust cap, steel chassis
- Passive Radiator: 10in., 254 mm
- Lower Frequency Response: 28 Hz at -6 dB in room
- Input Connectors: Hi Level Neutrik Speakon, Lo Level single phono, LFE phono
- Input Impedance: High Level: 150k, Low Level: 10k, .1/LFE: 10k ohms
- Gain Control Range: 80 dB
- Power Output: 300 Watts (RMS)
- Phase Switch: Yes, 0 or 180 degrees
- Amplifier Type: Class AB
- Mains Input Voltage: 220-240 volts, 110-120 volts for certain markets
- Fuses: 3.15 Amp semi delay 230 volts operation, 6.3 Amp semi delay 115 volts operation
- Dimensions (WHD): 13 x 15.2 x 16 in., (330 x 387 x 407 mm) Including Feet and Rear Panel
Controls
- Add 1.75 in (44.5 mm) in depth when using Hi Level connector
- Net Weight: 41.3 lbs. (18.7 kg)
- Finish: Gloss Piano Black or White Lacquer

Protection System
- Fully Electronic SET-SAFE: Yes
- D.C. Fault: Yes
- Output Short: Yes

Supplied Accessories
- Mains Lead: Yes
- Neutrik Speakon Interconnect: Yes (10 Meters Nominal)
- Users Manual: Yes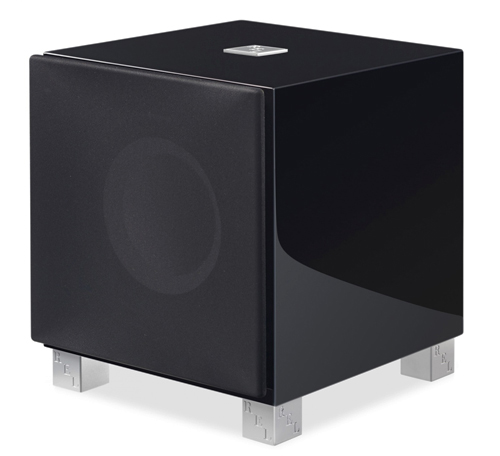 The Most T/i Available The Powerful T/9i
REL have a longstanding tradition of requiring the top model in any range to be more. More than the sum of its parts, it represents the grandest scale, the highest output and the most we can do within any given technology envelope. T/9i represents the most of T/i that we can deliver, and if sheer output alone is a primary requirement for your theater or music system then read no further. The combination of a lightweight, composite 10" driver coupled to a matching 10" T/i passive delivers speed, slam and attack when called upon but also is capable of tracing more delicate passages when necessary. Large in sonic scale, the T/9i is ideal for mating up with floor standing speakers and rooms that are on the medium-to-large size. Powerful, concussive, yet beautiful.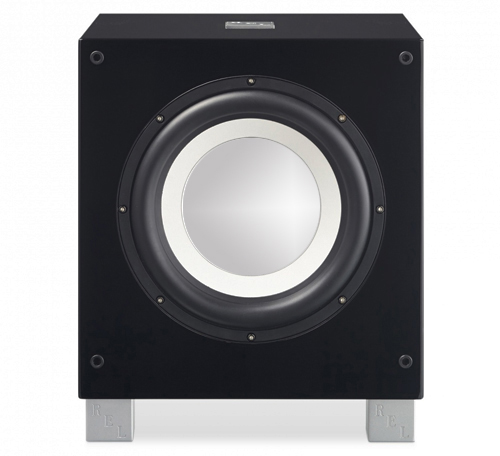 Reimagined, Then Reengineered A completely redesigned flaship
T/9i delivers more than just raw output. We started with our driver upgrades and built outward. The lovely cabinets grew by 4 lbs. (1.8 kg) over its predecessor due to thicker cabinet walls and improved bracing. Why? Because the additional speed and impact of the new drivers requires greater control or the benefits can be lost before they get to the listener.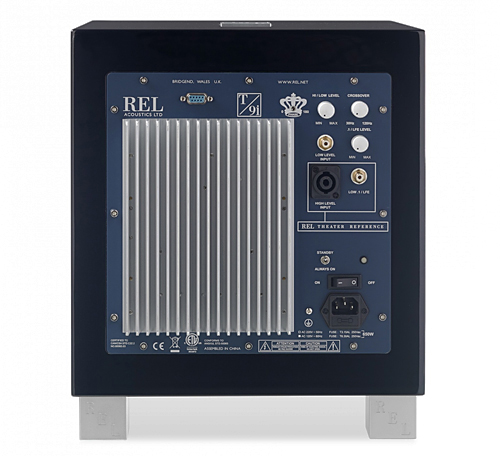 Great Subs, Great Amps The Brains Behind the Brawn
REL's acclaimed input filters and robust amplifiers result in some of the best sounding, most reliable designs ever produced. High current power supplies, huge toroidal transformers, and what many critics call the best filters in the world produce the famous REL Effect—wherein not simply the bass region but ALL music and movie sound is uplifted and improved.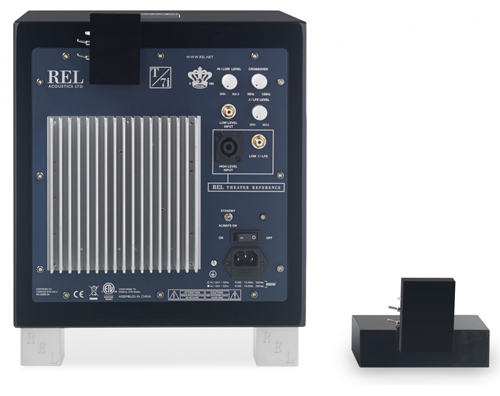 Zero Compression Wireless Introducing Arrow™
Arrow™ Zero Compression Wireless: REL are quickly growing into an industry leader in wireless. Following on the heels of the acclaimed LongBow™ Wireless, Arrow delivers much of the promise and connectivity of hardwired RELs with the placement flexibility and pure cool factor of great wireless for all of T/i. For a reasonable sum, Arrow gives you the ability to place subs in distant corners, along glass walls, or on hardwood floors where a cable would otherwise destroy the effect.